Mobile complex for situation control and command "Stream-MDV"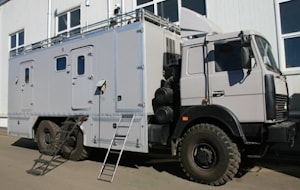 Designation:
collection and processing of information from various sources;
complex (multi-level) assessment of the situation at the protected facility, in the area of special events;
operational control of forces and means of reaction.
The internal space of the container-type body of constant capacity is divided into three sections according to the functions:
operational and technical section - for the deployment of four automated workplaces (AWP) for monitoring the situation and communications, integrated into the local computer network; placement in standard switching cabinets of radio monitoring equipment, video surveillance, processing of received information, communication and data transmission;
household section - for rest of duty shift personnel (two berths) and organization of their meals (set of kitchen equipment and household appliances - car refrigerator, electric stove, microwave oven, etc.);
engine section - for placing the diesel-generator set of the autonomous power supply of the complex, equipment of life support systems and control of antenna-masted devices.
In order to expand the controlled area, the surveillance equipment (video and IR surveillance, radio monitoring equipment) can be installed on flight vehicles of different applications.



tags
One-component products, Vehicles with container and van bodies of constant capacity




If you are interested in mobile complex for situation control and command "Stream-MDV" , you may: