Special armored vehicle "Peacemaker"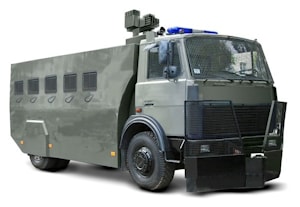 Designation
- technical support with the use of special means (mounted grenade launcher, net throwing device, smoke barrier mount, infrasound siren, laser emitters, etc.) for police operations to combat malicious violators of law and order during unauthorized demonstrations and other large gatherings of people.
"Peacemaker" can be used to perform the following tasks:
suppression of group violations of public order and the state border (through the use of special means against organizers and active participants);
special operations to release hostages (to suppress the resistance of persons who have taken hostages, cover the takedown team);
hold off the attacks on buildings, premises of state and public organizations, enterprises, institutions, protected objects, columns (by providing the actions of all groups of combat order with special means, smoke);
participation in the seizure of weapons and ammunition, military and special equipment, poisonous, explosive and radioactive substances (through active response to armed persons);
collection and processing of information from various sources;
complex (multi-level) assessment of the situation;
operational control of forces and responsive means.


tags
One-component products, Vehicles with container and van bodies of constant capacity




If you are interested in special armored vehicle "Peacemaker" , you may: