Command vehicle with a container-type body of constant capacity (VIP kitchen and canteen)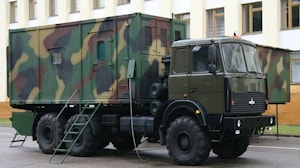 Designation
- providing meals in the field conditions for representatives of the higher command staff and the management of mobile command posts.
To solve these tasks, the vehicle is equipped with field life support systems, as well as with cable inputs of power supply and communication.
The container-type body is divided into two blocks: kitchen with a set of necessary equipment and utensils for cooking and storing food; and canteen - with a set of furniture that provides comfortable meals.
| | |
| --- | --- |
| Working temperature | from -40°С to +50°С |
| Interior climate | 20±5°С |
| Deployment time (calculated as for 2 people) | up to 20 min |
| Number of seats | 4 |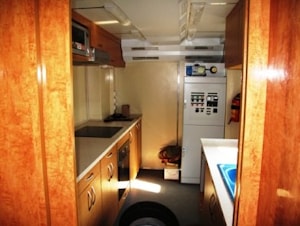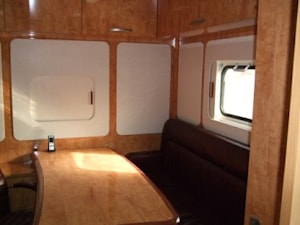 tags
One-component products, Vehicles with container and van bodies of constant capacity




If you are interested in command vehicle with a container-type body of constant capacity (VIP kitchen and canteen) , you may: