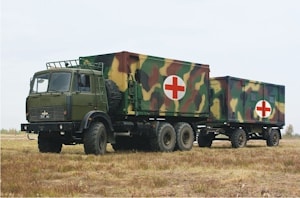 Designation
– providing specialized medical assistance to military personnel of the unit in the field conditions.
Components
- command vehicle with a container-type body of variable capacity (dressing room) and a trailer with a container-type body of constant capacity (pharmacy).
Dressing room is designed to provide urgent first aid measures and elements of qualified medical care to the wounded and injured in the field. The container-type body is equipped with life support systems (heating, air conditioning, ventilation and air cleaning, interior lighting), as well as special equipment: dressing tables, stacking mobile cabinets and water supply systems and electrical equipment.
Mobile pharmacy is designed to receive, store and issue medicines, dressings, etc. In a container-type body of constant capacity, cabinets for storing dressings, safe boxes and metal cabinets with locks for storing medicines, refrigerators and special thermoses for storing vaccines and preparations are located.