Mobile unmanned aircraft complex "Busel-10"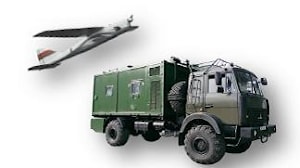 Designation -
aerial reconnaissance and aerial photography of the terrain in real time for military purposes
Components:
transport base (chassis of the high mobility vehicle) with a container-type box body;
unmanned aircraft complex "Busel-10";
set of hardware and equipment;
integrated navigation and information complex (optional);
set of special software.
General characteristics:
The UAV in automatic mode covers a distance of up to 1000 km at random track. The track is entered into the unmanned aerial vehicle when it is in the line-of-sight at a distance of up to 120 km from the ground control station (GCS). Aerial photographs are stored in the on-board memory and can be read when the UAV enters the video channel reception area (120 km) or after landing;
possibility of flights with sequential transfer of control between several GCS;
possibility of conducting video surveillance of fixed and mobile objects without time limits;
optimum height of the flight for aerial photography is 1-3 km. The width of the photographed strip is also 1 to 3 km (the capture width of the camera is approximately equal to the flight height);
photos are stitched into the photographic plan at the GCS. At the same time, the images are referenced to the geographical coordinates.
If you are interested in mobile unmanned aircraft complex "Busel-10" , you may: