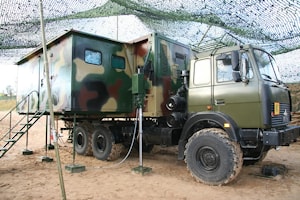 Designation:
providing comfortable conditions for the rest of the operational staff of the functional groups and command posts of the branch commanders, Special Forces and mobile control posts (from tactical to strategic level) in case of absence or destruction of a developed life support infrastructure.
To solve these tasks, the product is equipped with field life support systems: lighting, power supply, filter ventilation, heating, microclimate (air conditioning, ventilation, air heating); cable inputs of power supply and communication; necessary set of furniture (two-tier bunks, bedside tables, chairs). All the furniture in the product is standard (folding) and is transported folded in the central console of the container-type body.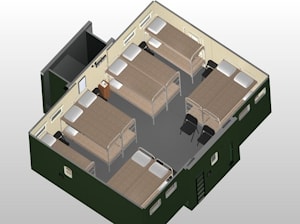 In the transport position, the container-type body represents a 20-foot container of international standard. When deployed, the upper and side panels are unfolded with special mechanisms from two sides of the container-type body, the lower double panels are laid out on a special frame, forming a floor.
The container-type body is equipped with a special mechanism for lifting and lowering of the transport base, made on the basis of electromechanical or hydraulic devices.
| | |
| --- | --- |
| Working temperature | from -40°С to +50°С |
| Interior climate | 20±5°С |
| Deployment time (calculated as for 4 people) | up to 20 min |
| Number of sleeping berths | 20 |
| Deployed useful area | 30 m² |