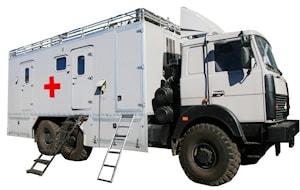 Designation
- providing a certain range of medical services to the population in rural areas with the use of telemedicine. The complex is a multi-section isothermal van on the all-wheel four-wheel drive chassis.
Components:
technical section and three medical treatment rooms.
The diagnostic section (the physician's office), intended for general examination and consultation, is equipped with an automated workplace of the therapist, medical furniture and appropriate equipment.
Depending on the purpose, the examination section can be equipped with equipment for gynecological examinations, colposcopy, sigmoidoscopy, ophthalmoscopy and otorinoscopy, visual acuity and IOP measurement, functional studies (electrocardiography, spirometery and ultrasound), etc.
At the request of the customer during the manufacture of the complex, it is possible to change the functional purpose of the examination section by installing (replacing) the relevant equipment.
The laboratory section is equipped with equipment for general and biochemical blood tests, general urine analysis.
To solve the problems of telemedicine, a computer is installed that is interfaced with digital medical equipment, means of near and far wireless communication, video conferencing and IP broadcasting.