Special road tank vehicle "Ice stream"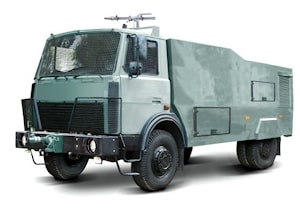 Designation
- technical support of police operations aimed at restoring order in case of unlawful actions during unauthorized mass demonstrations or actions of civil disobedience.
To carry out the tasks for the intended purpose, the vehicle is equipped with a water jet system, water tank and video surveillance system with all-round view, monitoring the roof and space under the car.
The cabin is equipped
with:
removable protective grilles made of metal rod for the protection of glass panels, turners, bonnet and headlights;
signal loud-speaking installation;
air conditioning, heating and ventilation systems;
mobile water monitor with remote controls;
additional searchlight with a protective grille.
The box body is equipped
with:
tank protected by a solid metal frame;
opening (removable) metal casings to protect the rear wheels of the fuel tank and batteries;
door of the pump section and section for storage of spare parts, tools and accessories in the form of rolling shutters with locking devices;
removable metal sheets covering the driver's cab; protective grille for the rear lights, overall and contour lights;
additional searchlight with a protective grille (at the rear of the body).


tags
One-component products, Vehicles with container and van bodies of constant capacity




If you are interested in special road tank vehicle "Ice stream" , you may: