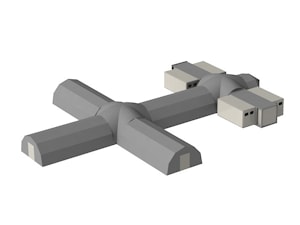 Designation
- providing qualified and specialized medical assistance in the field conditions during the liquidation of medical consequences of emergencies and military conflicts, during organization of medical support of various activities through the operational transfer by air transport to the destination area.
Components:
functional department;
hospital unit with 50 beds;
household complex.
The hospital has a capacity of at least 150 people per day.
The hospital can be transferred to the deployment area by three IL-76 flights. The first flight carries a functional department with an autonomous power supply system, stock of essential medicines, food, water and fuel for three days. It consists of four pneumo-framed modules (receiving and sorting, evacuation, diagnostic and dressing) and two modules of variable capacity (surgical and intensive care).
The second flight transfers a hospital unit consisting of seven pneumo-framed modules, on the basis of which the stationary and medical rooms are organized, as well as four pneumo-framed modules for catering. The canteen seats 50 people in one shift.
The household complex consists of ten pneumo-framed modules, on the basis of which the household objects and support objects are organized. It also includes sleeping modules with 24/48 beds for medical staff.