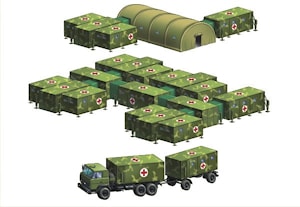 Designation
- providing qualified and specialized medical assistance in the field while eliminating the medical consequences of emergencies and military conflicts.
The hospital can be used as a completely independent and autonomous unit, and to strengthen the capacity of in-patient medical units or their temporary replacement. The type and level of medical care depends on the design and the availability of trained medical personnel. The hospital can be of the first, second and third level according to the norms of the World Health Organization.
The main structural elements of the field mobile hospital are typical modules on the basis of container-type bodies of variable and constant capacity. The design of the modules allows them to be docked with one another and with various frame structures to form functional blocks. Functional blocks are joined in a single complex for the organization of a common working space. Docking is carried out through the transition tambours to save energy for heating and air conditioning, reducing the impact of adverse environmental factors on medical personnel and patients.
Modules are equipped with power supply, heating, ventilation, air conditioning, air purification, water supply and water treatment, medical gases (oxygen supply, nitrous oxide, gas mixture dispensing) and waste disinfection systems.