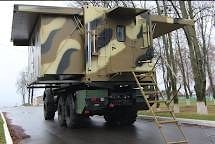 Designation:
platform for creating modern mobile posts and complexes of various types, used both independently and as a part of mobile command posts, situation centers, mobile border guard units and other mobile units. This product of a new generation implements the tasks of providing mechanized deployment and disassembling by a reduced crew, creating ergonomic automated workplaces with permanently installed active equipment.
When folded the container-type body has a standard 1C size (20-foot container) and can be transported by road, rail, air and water transport.
The container-type body is deployed and disassembled from the transport position to the working position and backward using the remote control. Deployment (disassembling) time by a crew of 2 people is up to 20 min.
Various versions of the container-type body are developed, which differ from the basic one with the composition and specific technical characteristics of systems and equipment, furniture, quantity, dimensions and arrangement of doors and windows and other features within the basic tactical and technical characteristics.