Midivisana at the exhibition KADEX - 2018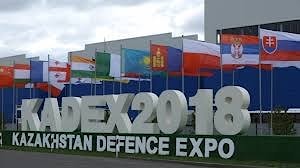 V International Exhibition of Weapons Systems and Military Equipment KADEX-2018 took place from May 23 to May 26, 2018 on the territory of the military sector of the International Airport of Astana.This was the first exhibition held under the auspices of the Ministry of Defense and Aerospace Industry of the Republic of Kazakhstan.

At the exhibition there were 10 pavilions, among them: three separate pavilions (Turkey, China and Russia), pavilions of Kazakhstan enterprises of JSC NC Kazakhstan Engineering , LLP Kazakhstan Paramount Engineering , JSC Kaztehnologii. In addition, for the first time, a pavilion dedicated to the space industry was exhibited.

As exhibitors their products presented 318 companies from 28 countries.Visitors of the KADEX-2018 were able to get acquainted with the latest achievements and perspective scientific developments of the enterprises of the defense-industrial complex and the space sphere.

124 units of land equipment and 18 aircraft and drones were exhibited at the open demonstration site. Production of LLC Midivisana was represented by a set of modular command vehicles (consisting of four modules), which was before delivered at the order of the Ministry of Defense of the Republic of Kazakhstan.

The exhibition was visited by more than 40 official delegations from Russia, Belarus, Kyrgyzstan, Armenia, the UAE, Turkey, Jordan, Egypt, Israel, Italy, Mongolia and other countries, as well as 108 foreign company executives.

Representatives of Midivisana LLC, within the framework of their participation in KADEX-2018, held a number of meetings and negotiations with participants and visitors of the exhibition, during which issues of establishing mutually beneficial cooperation were considered.